Support for OneTerminal TMS





Training



Our effective, friendly training happens at your location.
When you purchase OneTerminal TMS, our training staff comes on-site to personally teach everyone in use of the software. Hands-on training includes both group sessions and individual coaching. Follow-up training, in person or by remote meeting, can be purchased at any time.

Easy to learn, easy to use
OneTerminal TMS is clear, intuitive and easy to use. Its simple screen resembles Outlook.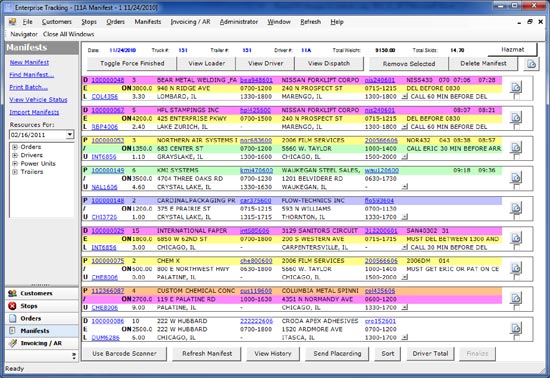 < Back to top
---



Support



We're here when you need us.
Support for OneTerminal TMS comes in several forms, even before you buy:
• Assessment of your technical needs during the purchase process
• Network consulting for in-house installations (additional fee applies)
• Context-sensitive help within the software itself
• FAQ's on the JSY website (you will receive a customer-only login URL)
• Technical support by e-mail
• Technical support by telephone

Custom development services
Some customers may need or want additional software services or customization to enhance their installation of OneTerminal TMS. Experts from JSY Consulting, our sister company, can work with you to develop these additional features for your firm.

< Back to top


---

Local and Remote Hosting Options

Maintain your data in-house, or we'll host it for you.
When you select OneTerminal TMS to turbo-charge your local trucking operation, you can host the data locally or remotely. Select the best option for your business.

Local hosting: For customers who prefer to host customer data in-house, JSY's will configure and install OneTerminal TMS and your database within your existing network environment. Microsoft SQL Server is required. Authorized users can tie in remotely via VPN at any time.

Remote hosting: For customers who prefer to keep infrastructure and initial software costs low, JSY offers remote data hosting through our partner, Rackspace. JSY also auto-deploys software and database updates seamlessly for you.


Our partnership with Rackspace gives you world-class performance. Host your database in confidence with the industry leader.
---



Upgrade to OneTerminal TMS



"What if I already have a TMS in place?"
Not a problem. The JSY support team gives you step-by-step guidance to ensure that you have all of the elements in place for running OneTerminal TMS.

Smoothing the transition to OneTerminal TMS
The JSY support team provides detailed information so that you can:
• Set up rates (global, custom, and special)
• Import Stop information
• Import Customer information
• Set up drivers, power units, and trailers
• Set up options (scanning, GPS, EDI, etc.) and associated hardware
• Set up commissions and pickup/delivery revenue splits

JSY Consulting services are available if you need hands-on technical assistance with your upgrade. Ask your JSY representative for further details, or contact us.

< Back to top


---