Features:
>
Rating/Pricing
>
Routing & Manifesting
>
Real-Time Status
>
Invoicing/A-R
>
Web Portal/Online Tracking
Options:
>
Document Scanning
>
EDI
>
GPS/Geofencing Option
>
Hazmat Status
>
Route Optimization
Support:
>
Training
>
Support
>
Local and Remote Hosting
>
Upgrade to OneTerminal TMS



Features of OneTerminal TMS: Watch our demo videos
Scroll down or click the links to the left to see all the features of this powerful software, including videos.

Rating / Pricing

"Pricing used to take forever. We get so much more business now because we can quote shipments in seconds. I haven't seen anything that does rating for local P&D—or air freight—as fast or as well as OneTerminal TMS."
–Joseph Farella, Managing Partner, Satellite Motor Services, Wood Dale, IL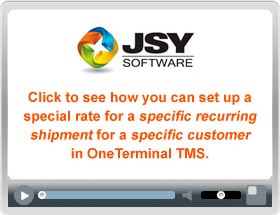 Price every shipment instantly. Win and keep more business.
Eliminate that enormous 3-ring binder—let OneTerminal TMS do the work for you. Now anyone in customer service can give accurate, completely customer-tailored pricing—in seconds. No more waiting on "pricing people"—it's all right here! Use your precious staff time for other things.

No more tearing your hair out because someone gave a customer the wrong price. Now anyone can price shipments properly, in seconds. OneTerminal TMS calculates the rate as you enter an order. It's that fast. Remove bottlenecks and save hundreds of precious hours.

OneTerminal TMS puts you in total control.
Rate your shipments by:

Hundredweight
ACI
Truckload
Pallets/Skids
Hours
Rating disk
Cubes
MilesUnits of volume (such as gallons)

Custom-quote any order—even special runs.
Offer your customers special rates based on any criteria you set up. Choose one of 5 pre-set global rates or construct custom rates for specific customers, including:
• Detention tables
• Zone surcharging
• Accessorials

You can even set up a special rate for a specific recurring shipment for a specific customer.

< Back to top


---
Routing and Manifesting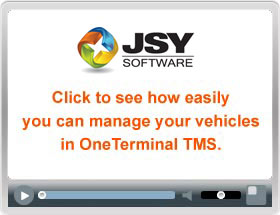 OneTerminal TMS gives you complete control of your routing. Never miss a pickup. Improve your service and your margins.
Because it's built for local trucking operations, OneTerminal TMS gives you the tools to make the most money on every local route.

Total routing flexibility = more profitable routes.
Assign any shipment to any driver on any day to maximize profitability. Manage static routes too. Create driver manifests in seconds. Account for short time windows, required calls or appointments, emergency runs, CODs, and more. Use easy drag-and-drop to adjust routes. Even with optional route optimization, your dispatcher can make all the decisions.

Dispatch View gives instant access to any information about any order or route at any moment—all based on a single screen. Respond quickly to realities on the ground while reducing time-consuming phone calls with drivers. Eliminate missed pickups and keep your customers coming back.
Get every load on the right truck and out the door.
Load Sheets give loaders what they need to make sure they haven't missed anything. Make any changes to orders after freight comes in. Check paperwork against shipment details before loading. Use optional handheld devices and built-in barcoding to scan/track shipments in your terminal or warehouse.
Accurate info for drivers = P&D done right.
Driver Printout gives drivers complete "where/what/who" for every location. Ensure that drivers and dispatch always have special instructions, such as:
• Advance notifications
• Appointments
• Liftgate requirements, etc.
Monitor driver revenue—saving hundreds of staff hours annually.
In seconds, print payout reports for independents. Assign and track revenue splits between pickups and deliveries. Measure driver and vehicle productivity with detailed reports.

< Back to top


---



Real-Time Vehicle Status



With a click, see real-time information on every vehicle.

See total cargo for any vehicle in real-time, measured by weight and/or floor space.

OneTerminal TMS auto-adds or subtracts as pickups and deliveries happen. Know immediately if a vehicle can take a last-minute pickup.

Click here to see how OneTerminal TMS keeps you in the know.

< Back to top


---
Invoicing/A-R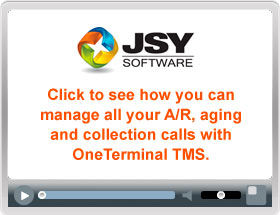 Manage all your A/R from a single screen...
Accelerate those receivables right into your bank account. OneTerminal TMS features one-stop A/R and invoicing. You don't have to waste any more time finding POD information in case you have a customer query or dispute. It's all at your fingertips.

...and get paid more quickly on all that new business.
The Aging Report gives you one-click access to everything you need:
• Who owes you what and since when (including who's late)
• Details of every invoice
• Details of every order
• POD documents for every shipment
• Notes from every collection call

Approve / invoice orders in a flash, and see sales reports ASAP.
It only takes seconds to quickly review your finished orders, make adjustments, and get your billing out. Group finished orders into invoices and create/print /post them on the fly. Accommodate your customers' preferences for single or grouped invoices, sorted by order or reference number.

Calculate pay for independent drivers with a few clicks.
It only takes seconds to quickly create commission reports for independents. Review the numbers, then print them out from OneTerminal TMS, run checks and you're done!

Manage your sales force with great reporting tools.
Sales Analysis shows changes in customer volume over time. Built-in reports include Total Revenue by Customers or Months, Customer Percentage of Salesperson Total, Commission Loss, Financial Status, and Customer Rating.

< Back to top


---



Web Portal / Online Tracking



Give your customers 24/7 access with OneTerminal TMS.
Improve your service and take fewer phone calls.
Add value every day with the Web portal in OneTerminal TMS. Give your customers real-time tracking information when they need it most. Based on their permission level, customers can request quotes, see POD information, and download documents and invoices. With optional document scanning, customers can also search, view and download scanned documents, get copies of POD paperwork, and more.

< Back to top


---